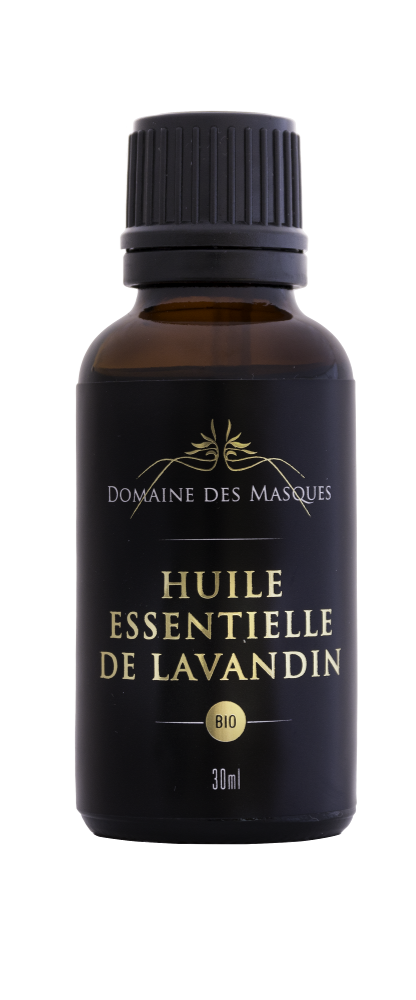 The lavandin
Origin and description
Lavandin is a member of the Lamiaceae family.
It is a hybrid between true lavender and aspic, it is more resistant.
The flower spike is thicker, purple in color and its stem is longer than that of lavender.
At the estate, it is cultivated, harvested and distilled according to Ecocert certified organic standards.
Only the flowering tops are harvested.
The yield is 2 kg of essential oil for 100 kg of flowers.
Its essential oil of good olfactory quality is more camphorated than that of lavender. It is very used in perfumery but also in phytotherapy.
Composition
It is composed of monoterpenol (linalool), terpene esters (linalyl acetate), monoterpene ketone (camphor), terpene oxides (eucalyptol).
The essential oil of lavandin is antibacterial, anti-inflammatory, healing, relaxing, calming, sedative, analgesic, antispasmodic, relaxing. It also repels insects (anti-lice).
It is called the natural anti-stress.
Use and dosage
For the sportsmen, against the contractures, dilute 5 drops in the bath, in the shower gel or in 30 ml of vegetable oil of arnica for the massage.
To fight against nervousness, stress, anxiety, sleep disorders and depression, dilute 5 drops in 30 ml of vegetable oil, massage the spine, chest and soles of feet. You can dilute some drops in a diffuser or a radiator humidifier, half an hour before bedtime.
For migraine, dilute a few drops in sweet almond oil, then massage the temples and neck.
For the skin, dilute a few drops in your cream or use it on a cotton swab directly on the buttons.
For the lice, dilute 3 drops in a hazelnut of shampoo.
Perfume your house (a few drops in a diffuser) and your clothes (a few drops in your laundry). It repels insects, prevents the spread of germs and has a relaxing and soothing effect.
A few drops in cupboards and drawers will drive away moths.
Precautions
As with all essential oils, there can be allergic reactions. It is always better to try a drop on the arm pit and wait 48 hours.
It is not recommended for pregnant women under 5 months or breastfeeding women and children under 6 years.