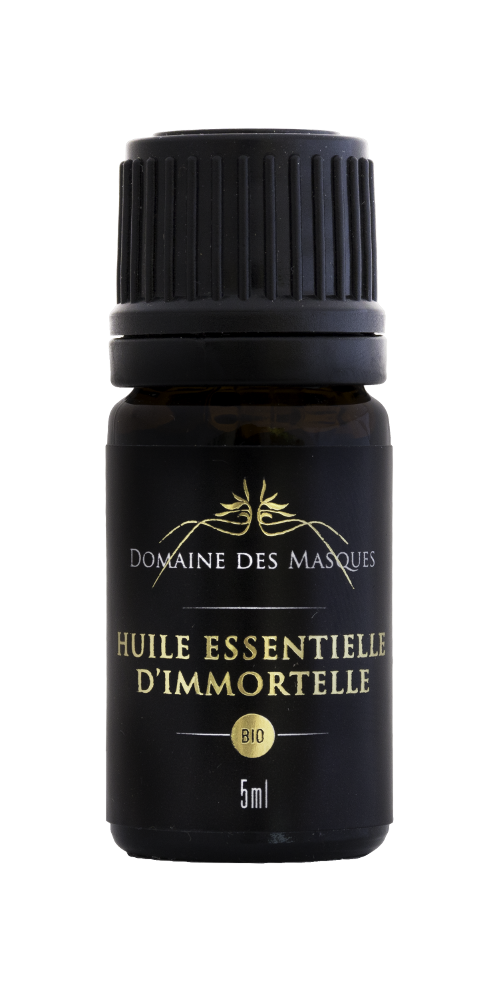 Helichrysum italicum or Immortelle
Origin and description
It belongs to the Asteraceae family.
It is characterized by its silvery, downy foliage and especially by its small, golden-yellow flowers grouped in flowerheads that do not fade.
Its name comes from the Greek "helios" which means sun and "chrysos" which means golden.
It is very present in the Mediterranean basin. It likes the arid and sunny grounds.
It was first described in Italy, hence its name "Italicum", but it is mainly found in Corsica.
At the Domaine, it is cultivated, harvested and distilled according to Ecocert certified organic standards.
The yield during distillation is very low. It takes a ton of flowers for 1 kg of essential oil. This is why its price is very high.
The plant has a strong smell of curry and the perfume of the essential oil is not very pleasant but the effectiveness is there.
Composition
The dosage of neryl acetate and italidione is high in this oil. This gives it its analgesic, anti-inflammatory, healing and decongestant properties.
The immortelle has no more to prove its active principles in phytotherapy.
It is considered as the "super Arnica", 1000 times more powerful.
It is thus necessary to use it with a parsimonious dosage.
It acts on the capillary permeability, decreasing the stagnation of lymph and blood.
It is used in dyspepsia (heartburn and acid reflux), hematomas, circulation disorders (varicosities, varicose veins, anti-phlebitic, veino and lympho-tonic, Reynaud's disease), skin problems (scars, superficial wounds, burns, couperose, stretch marks, eczema, acne, wrinkles, bedsores), arthritis, rheumatism and as an airway decongestant (anticatarrhal, natural expectorant).
Use and dosage
In the form of essential oil, immortelle is often diluted in another vegetable oil such as Argan or Jojoba.
For the use in local treatment for the cutaneous problems, dilute 6 drops in 30 ml of oil of jojoba or argan.
For use in night cream, dilute 10 drops in 50 ml of cream
For the use for the circulatory problems, haematomas or rheumatism… The dilution can be more concentrated until 50/50 in the vegetable oil of calophylle. The higher the concentration, the more it should be used on small targeted areas.
For the bath, dilute 10 drops.
For the use in diffuser, 10 drops.
For inhalation during respiratory problems, put 5 drops in a bowl of hot water.
As an infusion for dyspepsia problems, put a handful of flowers in a saucepan, boil and then put in the refrigerator.
Precautions
As with all essential oils, there can be allergic reactions. It is always better to try a drop on the arm pit and wait 48 hours.
The use of immortelle is not recommended for pregnant women and during breast feeding.
It is not recommended for young children.
It is not advised in the persons suffering from an obstruction of the bile ducts or taking an anticoagulant treatment.